Vietnam: How this country of 95 million kept its coronavirus death toll at zero
To skeptics, Vietnam's official numbers may seem too good to be true. But Guy Thwaites, an infectious disease doctor who works in one of the main hospitals designated by the Vietnamese government to treat Covid-19 patients, said the numbers matched the reality on the ground.
"I go to the wards every day, I know the cases, I know there has been no death," said Thwaites, who also heads the Oxford University Clinical Research Unit in Ho Chi Minh City.
"If you had unreported or uncontrolled community transmission, then we'll be seeing cases in our hospital, people coming in with chest infections perhaps not diagnosed — that has never happened," he said.
So how has Vietnam seemingly bucked the global trend and largely escaped the scourge of the coronavirus? The answer, according to public health experts, lies in a combination of factors, from the government's swift, early response to prevent its spread, to rigorous contact-tracing and quarantining and effective public communication.
Acting early
Vietnam started preparing for a coronavirus outbreak weeks before its first case was detected.
At the time, the Chinese authorities and the World Health Organization had both maintained that there was no "clear evidence" for human-to-human transmission. But Vietnam was not taking any chances.
"We were not only waiting for guidelines from WHO. We used the data we gathered from outside and inside (the country to) decide to take action early," said Pham Quang Thai, deputy head of the Infection Control Department at the National Institute of Hygiene and Epidemiology in Hanoi.
Thwaites, the infectious disease expert in Ho Chi Minh City, said the speed of Vietnam's response was the main reason behind its success.
"Their actions in late January and early February were very much in advance of many other countries. And that was enormously helpful … for them to be able to retain control," he said.
Meticulous contact-tracing
The decisive early actions effectively curbed community transmission and kept Vietnam's confirmed cases at just 16 by February 13. For three weeks, there were no new infections — until the second wave hit in March, brought by Vietnamese returning from abroad.
Authorities rigorously traced down the contacts of confirmed coronavirus patients and placed them in a mandatory two-week quarantine.
"We have a very strong system: 63 provincial CDCs (centers for disease control), more than 700 district-level CDCs, and more than 11,000 commune health centers. All of them attribute to contact tracing," said doctor Pham with the National Institute of Hygiene and Epidemiology.
A confirmed coronavirus patient has to give health authorities an exhaustive list of all the people he or she has met in the past 14 days. Announcements are placed in newspapers and aired on television to inform the public of where and when a coronavirus patient has been, calling on people to go to health authorities for testing if they have also been there at the same time, Pham said.
When the Bach Mai hospital in Hanoi, one of the biggest hospitals in Vietnam, became a coronavirus hotspot with dozens of cases in March, authorities imposed a lockdown on the facility and tracked down nearly 100,000 people related to the hospital, including medics, patients, visitors and their close contacts, according to Pham.
"Using contact-tracing, we located almost everyone, and asked them to stay home and self quarantine, (and that) if they have any symptoms, they can visit the health centers for free testing," he said.
Vietnam's contact-tracing effort was so meticulous that it goes after not only the direct contacts of an infected person, but also indirect contacts. "That's one of the unique parts of their response. I don't think any country has done quarantine to that level," Thwaites said.
As of May 1, about 70,000 people had been quarantined in Vietnam's government facilities, while about 140,000 had undergone isolation at home or in hotels, the study said.
The study also found that of the country's first 270 Covid-19 patients, 43 percent were asymptomatic cases — which it said highlighted the value of strict contact-tracing and quarantine. If authorities had not proactively sought out people with infection risks, the virus could have quietly spread in communities days before being detected.
Public communication and propaganda
From the start, the Vietnamese government has communicated clearly with the public about the outbreak.
Dedicated websites, telephone hotlines and phone apps were set up to update the public on the latest situations of the outbreak and medical advisories. The ministry of health also regularly sent out reminders to citizens via SMS messages.
Pham said on a busy day, the national hotlines alone could receive 20,000 calls, not to count the hundreds of provincial and district-level hotlines.
Thwaites said Vietnam's rich experience in dealing with infectious disease outbreaks, such as the SARS epidemic from 2002 to 2003 and the following avian influenza, had helped the government and the public to better prepare for the Covid-19 pandemic.
"The population is much more respectful of infectious diseases than many perhaps more affluent countries or countries that don't see as much infectious disease — Europe, the UK and the US for example," he said.
"The country understands that these things need to be taken seriously and complies with guidance from the government on how to prevent the infection from spreading."
"Pembuat masalah. Media sosial yang menawan, praktisi budaya pop. Pembaca yang setia."
BEM UI akan mengoordinasikan gelombang protes besar-besaran terhadap undang-undang pidana yang baru
Tempo.co, Jakarta – Dewan Perwakilan Rakyat (DPR) resmi mengesahkan Revisi KUHP atau RKUHP dalam rapat paripurna yang digelar hari ini, 6 Desember 2022. Bayu Satria Utomo, Presiden Badan Penyelenggaraan Mahasiswa (BEM) Universitas Indonesia (UI), mengatakan dalam RUU tersebut. Masih banyak lagi artikel yang bermasalah.
Di antara pasal-pasal yang bermasalah, kata Bayu, adalah pasal yang mengatur penodaan agama dan demonstrasi. Bayu mengatakan akan mengadakan pertemuan dengan mahasiswa di daerah lain untuk menolak undang-undang baru tersebut.
"Tentu kami akan berusaha menghadirkan gelombang protes yang besar. Kami akan berdiskusi dan berkoordinasi tidak hanya di Jakarta, tapi di seluruh Indonesia," kata Bayu, Selasa, 6 November 2022, di depan gedung DPR.
Menurut dia, pemerintah dan DPR ngotot untuk mengesahkan RUU tersebut meski banyak pasal yang rancu. Misalnya, pasal yang menghina institusi pemerintah.
Bayou berpendapat pasal tersebut berpotensi membungkam kebebasan berekspresi mahasiswa karena tidak ada garis tegas antara kritik dan hinaan.
Oleh karena itu, kata dia, ini merupakan langkah terdekat yang harus dilakukan sebelum mahasiswa turun ke jalan dan melakukan aksi protes terhadap undang-undang pidana yang baru.
"Kita akan konsolidasi dulu dan perkuat gerakan di setiap daerah. Kalau perlu kita turun ke jalan," kata Bayu.
Ima Dini Shafira
Klik disini Dapatkan update berita terbaru dari Tempo di Google News
"Pembuat masalah. Media sosial yang menawan, praktisi budaya pop. Pembaca yang setia."
Sandhyaka Uno mengatakan saat ini pemerintah tengah mengembangkan Bali sebagai destinasi wisata kesehatan unggulan
Tempo.co, Jakarta – Pemerintah saat ini sedang berkembang Bali Menurut Menteri Pariwisata dan Ekonomi Kreatif Santiaka Uno, merupakan destinasi wisata kesehatan yang ideal.
"Kita semua (sebagai Paul) bersiap untuk kesehatan pariwisata target," katanya dalam rilis resmi, Selasa.
Rencana promosi wisata kesehatan di Bali bertujuan untuk menarik minat masyarakat Indonesia yang biasanya berobat ke luar negeri untuk berobat ke Indonesia dengan memberikan pelayanan yang optimal.
Berdasarkan data yang dicatat Kementerian Kesehatan pada 2021, ada kebocoran ekonomi sekitar Rp161 triliun per tahun dari warga Indonesia yang berobat ke luar negeri.
Pengembangan wisata kesehatan menjadi strategi nasional terdepan sebagai jawaban atas tantangan yang dihadapi bangsa Indonesia, khususnya terkait dengan kesehatan dan pemulihan ekonomi pasca pandemi.
Kementerian terus bekerja sama dengan berbagai pihak untuk mengimplementasikan empat pilar pengembangan wisata kesehatan yaitu wisata medis, wisata kesehatan, wisata kesehatan berbasis event olahraga dan kesehatan ilmiah berbasis MICE (Meetings, Incentives, Conferences and Exhibitions). pariwisata
"Bali adalah champion city dan medical tourism hub, serta salah satu destinasi yang sangat potensial untuk dikembangkan di sepanjang pilar health tourism," kata Uno.
Menkeu menjelaskan, pihaknya sedang melakukan beberapa inisiatif untuk memperkuat kerja sama dan menghubungkan sektor pariwisata dengan sektor kesehatan.
Inisiatif tersebut antara lain mengembangkan Rencana Aksi Nasional (RAN) Medical Tourism dan Wellness Tourism di Indonesia serta mendukung dan mendorong rumah sakit dan klinik yang ada di Bali untuk mendapatkan mandat dari Menteri Kesehatan sebagai Fasilitas Pelayanan Kesehatan Medical Tourism.
"Kemudian mendukung rencana Kementerian Badan Usaha Milik Negara (BUMN) menciptakan Zona Ekonomi Eksklusif Sehat di Sanur (Bali), sebagai keberhasilan cepat kami, mendesak pemerintah daerah untuk membentuk sistem perusahaan bersama. Koordinasi, advokasi dan implementasi yang diperlukan kebijakan dan program dalam rangka pengembangan wisata kesehatan di daerah masing-masing," jelasnya.
Ia menambahkan, Menkes telah melakukan berbagai langkah, salah satunya mendorong ekspatriat Indonesia, khususnya dokter Indonesia yang bekerja di luar negeri dan yang berilmu tinggi, untuk kembali ke Indonesia dan berkontribusi dalam peningkatan kesehatan. pariwisata Di Indonesia.
Antara
Klik disini Dapatkan update berita terbaru dari Tempo di Google News

"Penggemar bir. Penggemar makanan yang tidak bisa disembuhkan. Media sosial nerd. Penggemar bacon hardcore. Komunikator. Siswa."
Bekerja keras untuk mencapai tujuan menghapus larangan: BKKBN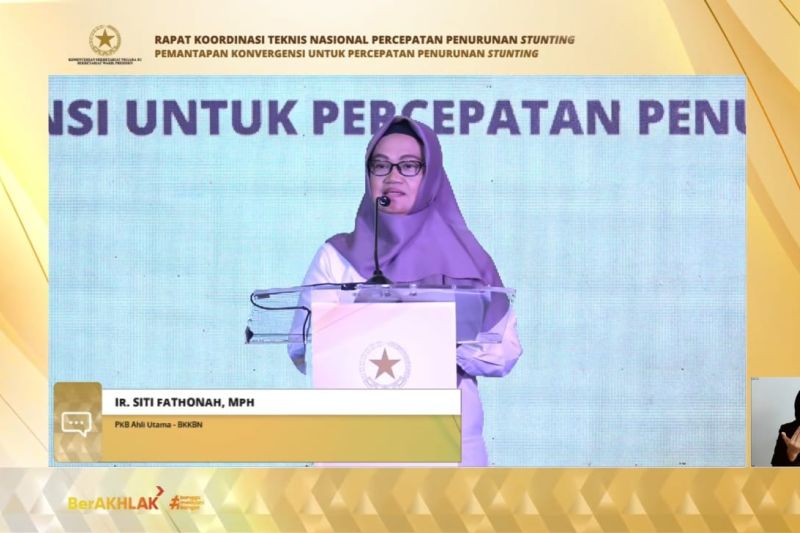 JAKARTA (ANTARA) – Menurut seorang pejabat Badan Kependudukan dan Keluarga Berencana Nasional (BKKBN), kerja keras diperlukan untuk mengurangi stunting di tingkat nasional guna mencapai tujuan menghilangkan hambatan pertumbuhan pada tahun 2030.
"Bisakah kita mencapai Indonesia tertinggal pada tahun 2030? Tinggal dua tahun lagi (untuk mencapai target penurunan angka keterbelakangan sebesar 14 persen pada tahun 2024). Kita harus bekerja keras," kata Siti Fathonah, Konsultan Keluarga Berencana (PKB) dan kunci BKKBN. ahli, dalam format online-offline, Senin, mengatakan pada "Rapat Koordinasi Teknis Nasional Percepatan Pengurangan Bingung".
Pertumbuhan yang lambat masih menjadi perhatian pemerintah karena penyebarannya dari tahun ke tahun rendah, kurang dari 2 persen per tahun, jelasnya.
Menurut Survei Status Gizi Indonesia (SSGI), prevalensi stunting Indonesia pada 2021 sebesar 24,4 persen. Saat ini pemerintah masih menunggu data SSGI 2022 yang mencerminkan penurunan pertumbuhan yang dicapai dari survei 2021.
Berita Terkait: Kementerian menarik perhatian pada masalah tata kelola dalam mengurangi kebuntuan
Data baru akan berfungsi untuk menunjukkan apakah upaya pemerintah berada di jalur yang tepat dengan tujuan mengurangi stunting hingga 14 persen pada tahun 2024.
Ia juga menyoroti bahwa target ketertinggalan nasional periode 2025-2030 harus ditetapkan berdasarkan penilaian tahun 2024.
Diterbitkan Peraturan Presiden Nomor 72 Tahun 2021 tentang Percepatan Penanggulangan Stunting, yang kemudian disusul dengan Peraturan BKKBN Nomor 12 Tahun 2021 yang berfungsi sebagai warning untuk pencegahan stunting dan sebagai dasar upaya percepatan penurunan stunting.
Ia menambahkan, Peraturan BKKBN Nomor 12 Tahun 2021 tentang Rencana Aksi Nasional Percepatan Penurunan Angka Stunting Indonesia (RAN-PASTI) memuat penjabaran prioritas utama kegiatan, tujuan, indikator, sasaran dan tanggung jawab.
BKKBN telah melakukan inisiatif percepatan penanggulangan stunting, seperti memetakan peran kementerian dan lembaga dalam percepatan penanggulangan stunting dan membentuk Tim Percepatan Penanggulangan Stunting (TPPS) di tingkat provinsi, kabupaten, kota, dan desa binaan. Tim (TPK).
Badan ini telah membentuk Gugus Tugas Percepatan Penanggulangan Stunting di BKKBN di tingkat pusat, provinsi, kabupaten dan kota untuk membantu koordinasi, konsultasi dan fasilitasi TPPS di tingkat provinsi, kabupaten dan kota.
Berita Terkait: Menteri menggemakan pentingnya gizi seimbang untuk mencegah stunting
Berita Terkait: Memotong pertumbuhan 10,4% pada tahun 2024 bukanlah tugas yang mudah: resmi
"Pembuat masalah. Media sosial yang menawan, praktisi budaya pop. Pembaca yang setia."